Dr C supported us with 5 tickets

Mrs C supported us with 1 ticket

Dr C supported us with 3 tickets

Mrs C supported us with 1 ticket

Dr C supported us with 3 tickets

Mrs C supported us with 1 ticket
---
2d 19h 37m

11 December 2021
---
Winner! Ms D (LEWES)

Won 3 extra tickets!

Winner! Mr M (Peacehaven)

Won 3 extra tickets!

Winner! Mr M (BRIGHTON)

Won 3 extra tickets!

Winner! Ms W (LEWES)

Won 3 extra tickets!

Winner! Mr K (Lewes)

Won 3 extra tickets!

Winner! Mrs B (SEAFORD)

Won 3 extra tickets!

Winner! Mrs E (EASTBOURNE)

Won 3 extra tickets!

Winner! Mx R (NEWHAVEN)

Won 3 extra tickets!
About us
Lewes Priory Trust provides a much loved and valued service for the community by maintaining and enhancing Priory Park in Southover, the location of one of Lewes' Scheduled Ancient Monuments, the remains of the Priory of St Pancras. The Park is free and open all day throughout the year for the benefit of the whole of Lewes and surrounding areas. Priory Park is used by thousands every year and has supported many wonderful events over recent years. While we do not have the benefit of a visitor or interpretation centre, we have provided information boards on site to help visitors appreciate what the Priory looked like when first built nearly a thousand years ago. We also support Lewes tourism by providing the History Trail and Priory information leaflets in eight different languages and these may be found at key locations around the town.
None of this could be achieved without support from Lewes Town Council but the Council grant does not cover all maintenance costs, and the Trust must raise funds from other sources to allow events and other projects that benefit the community to take place. As we approach the 10 year anniversary of opening the park with access to the ancient remains, we would like to celebrate the occasion with spectacular events.
Our achievements over the last 10 years include:
1. A medieval kitchen garden, an orchard of Sussex apple varieties, planting of memorial trees and installing memorial benches;
2. Brochures in eight languages for touring the park, information boards, models and audio guides have also been provided plus a series of historical publications;
3. A strong education team that has run many sessions for local schools and colleges over the last 10 years;
4. Undertaking archaeological works, ongoing research into carved stonework and underground remains, supporting local archaeological groups and, in particular the Priory Research Group in further studies of the site;
5. Working with other Lewes groups in organising popular events such as Priory By Candlelight and hosting plays, re-enactments of the Battle of Lewes, medieval music events, major festivals and summer fairs;
6. Leading the UK Cluniac Group and liaising with the European Cluniac Federation.
We need your help so we can continue to offer and even expand our service!
Thank you for your support and good luck!
Yours sincerely,
Mr Sy Morse-Brown
Chairman, Lewes Priory Trust
Help us share our cause on social media
How the lottery works
That's right, unlike many other lotteries, our lottery tickets are only £1 per week.
50% to your chosen cause and 10% to other causes in Lewes District.
Match all 6 numbers and you win the JACKPOT!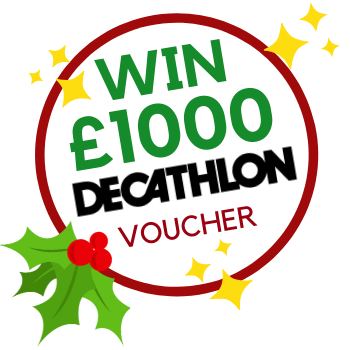 'Tis The Season To Make A Difference Today - PLAY
Choose to make a real difference to the community for £1 a week through the lottery. Your support also gives you chances at weekly cash prizes, PLUS, be in the draw on the 1st of January 2022 for your chance to WIN a £1,000 DECATHLON voucher to spend on 70+ sports, nutrition & body care products!